Bringing Purpose Into The Heart of Miss Venezuela
By Stacy Verner in Case Studies
October 16, 2015 04:00
---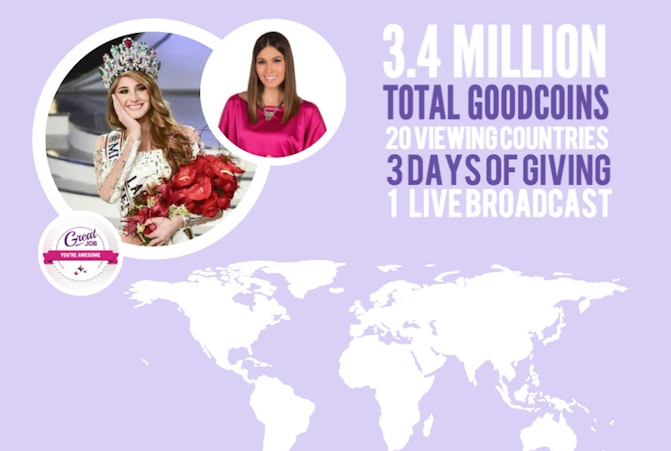 How does a global live broadcast personally engage with every single viewer across multiple countries, while simultaneously uniting them all around a singular cause? Cisneros Media deployed in/PACT's people-empowered giving platform during the live broadcast of Miss Venezuela 2015, allowing fans, viewers and live audience members of Miss Venezuela to direct a portion of Cisneros Media's 1 million bolivars charitable contribution to their favorite of four teen pregnancy-related causes.
The results of this campaign were staggering: over the course of only three days, in/PACT's platform hit 50,000 sessions overall, with 34,502 votes directing 3,450,200 GoodCoins to four deserving causes. Nina Madre, PLAFAM, Prosalud and Provive - all local Venezuelan nonprofits - collected 100% of the contributions and enjoyed unprecedented global coverage of their hard work and dedication towards making Venezuela a better place for young girls.
Social media coverage of the event went through the roof, with Venezuelan celebrities like Gabriela Isler - Miss Venezuela 2012 and Miss Universe 2013 - posting about the event multiple times to her 530,000 followers. The campaign news release was picked up by outlets like Yahoo!, Reuters, Market Watch and more, hitting an additional potential audience of 170 million. During the live broadcast, an estimated audience of 15 million listened and watched as the Miss Venezuela judges promoted the campaign on air, encouraging attendees and at-home viewers to participate in the first-ever live broadcast of people-empowered giving.
Our ultimate impact? Three whole days of global giving that resulted in a lifetime of support for local charities that needed it most.
Campaign Highlights:

---
Comments
---