Connecting with Purpose-Driven Millennials
By Stacy Verner in Guest Blogger
December 03, 2015 05:00
---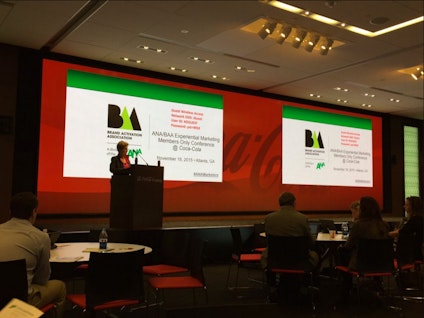 The paint was still drying when I ascended the escalator into Coca-Cola's brand new conference center at their world headquarters in Atlanta. Drifting by me on the wall hung proud relics of storied Coke campaigns briefly interrupted by artwork commissioned by local artists. Outside the main conference hall were tables adorned with Coke products, new beverages and platters of delectable food. The Coca-Cola Freestyle machine was in attendance of course, three in fact, dotted throughout the lounge styled break out areas.
The conference hall was in itself an experience for attendees and visitors alike, the Coca-Cola brand experience, that is. It was a fitting backdrop and stage for the Association of National Advertisers' Experiential Conference that I was about to attend.
Brad Taylor, VP of Specialty Retail at Coke, kicked off the conference with a remarkable presentation around their 'Share a Coke' marketing campaign. This was followed up with other great presenting organizations including the likes of Turner Broadcasting and Moet Hennessey.
The talks focused around best practices and best in class case studies around uses of experiential marketing to drive business results for brands. As each presentation went on, the makings of another great ANAconference were underway: awesome speakers, engaging videos, the occasional icebreaker to pep up the crowd. Each presentation ended with the usual five minutes Q&A session. Traditional questions came in from the crowd and traditional answers flowed back. But at the end of a presentation by music festival titan Superfly, a young lady asked a question that even got the college intern sitting next to me to look up from Snapchat: "How do you give your event goers the chance to give back to the local community around them?"
I was left curious of her motivation behind the question. Was she genuinely interested in Superfly's commitment to giving back? Did she have her own motive behind the question? Befuddled, the speaker answered with "I didn't expect to get that question but I'm glad you asked it." He went on to illustrate the current methods in place for Superfly to help give back to the local communities and how their fans could get involved. It seemed adequate, but I wanted to dig deeper.
I caught up with the presenter after the show and we struck up a conversation about the topic of activating purpose within experiential marketing. He shared that the young lady brought up an opportunity that his company had actually been considering expanding upon. Activating purpose and give back campaigns within their events, as he put it, represented an opportunity to engage their millennial audience, create new revenue streams and most importantly, give back to local communities.
This is an area of conversation I would have liked to have seen expanded upon at the conference: purpose and events. The marketer's obsession with reaching millennials was alive and well within the presentations. It would make sense then to shed some light into one of the key desires of this demographic within brand experience: millennials are the highest indexing demographic for purpose and giveback campaigns.
And for events, where else do you have the chance to reach thousands of people joined together to support a similar interest? These experiential marketing events are places where millennials come together to interact, dance, and many times sing to the same tune.  It is an opportunity for them to band together under similar ideals. There is an opportunity, albeit emerging right now, for experiential marketers to activate purpose at their events and achieve their ultimate objective with the millennial audience: engagement.
As I descended down the escalators on my way to the exit, I again reviewed the conference walls adorned with noteworthy Coke campaigns and took notice of a famous Coke slogan 'Share Happiness'. It made me reflect on the day's events and conversation around activating purpose at events, and left me wondering if my fellow experiential marketers would pick up and do the same.
This post was originally written by Hector Pages, in/PACT's VP of Business Development.
---
Comments
---