Crayola School Mask Pack Case History
By Keely Gregg in Blog
January 12, 2021 14:00
---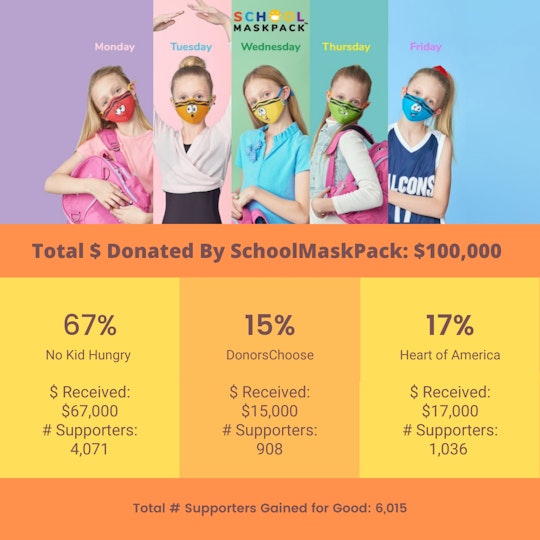 Client-Based Case Study
The Challenge
The Covid-19 pandemic resulted in dramatic shifts in consumer behavior in 2020. As parents and kids adjusted to the new normal for back to school, face masks became mandatory and recommended by the CDC for students along with physical distancing. Disposable masks presented undesirable environmental impacts and had a high cost per usage.
Supara wanted to provide an opportunity for children and families to help those who are affected by the Covid-19 pandemic through the launch of a new reusable cloth face mask set via SchoolMaskPack™, an Official Licensed Product from Crayola™.
Supara and Crayola™, with their highly trusted brand heritage, are committed to the schools and communities they serve. In this spirit, SchoolMaskPack decided to donate part of the proceeds from the mask packs to the #KidsHelpingKids Charitable Fund that would aid those most affected by the Covid-19 pandemic.
The Solution
Supara decided to set aside 1% of the purchase price for every mask order placed on Schoolmaskpack.com in a special donor advised fund called KidsHelpingKids to help nonprofits that are rebuilding their communities and supporting the children, families, and teachers most affected by the Covid-19 pandemic.
"In collaboration with in/PACT, customers had the opportunity to help direct where SchoolMaskPack gives back to the community by choosing one of three charities that support kids who are impacted by the Covid-19 pandemic - DonorsChoose, No Kid Hungry, and Heart of America."
"The key for the SchoolMaskPack™ team at Supara Group is that the foundations for innovation were in place already before COVID, and the headwinds caused by the pandemic for many businesses only accelerated the growth potential of our new model. Thanks to in/PACT's interactive digital giving solutions, we were able to grow sales and product affinity through our commitment to supporting those affected most by the pandemic." - George Hartel, COO Supara Group
Customers received a special code via their order confirmation email to redeem the donation. When they visited the white-labeled website to redeem, customized messaging reinforced the good cause and asked them to enlist their friends and family to purchase masks to increase their impact by helping more kids. Nonprofits and customers used the hashtag #kidshelpingkids to amplify the movement across social media channels.
in/PACT's partnership with The GoodCoin Foundation allowed the KidsHelpingKids funds to be distributed to the recipient nonprofits in a timely, scalable manner.
The Results
SchoolMaskPack.com earned over $25,000,000 in sales revenue and was able to raise and donate over $100,000 to students, families, and teachers in need. in/PACT tracked the number of new supporters and lifetime supporters accumulated by each non-profit throughout their participation, to show how much awareness was raised through the partnerships of Crayola, SchoolMaskPack, the GoodCoin Foundation, in/Pact, and the three charities. As a result, the #KidsHelpingKids Charitable Fund was able to award donations of $15,000, $67,000, and $17,000 to DonorsChoose, No Kid Hungry, and Heart of America respectively.
By the Numbers: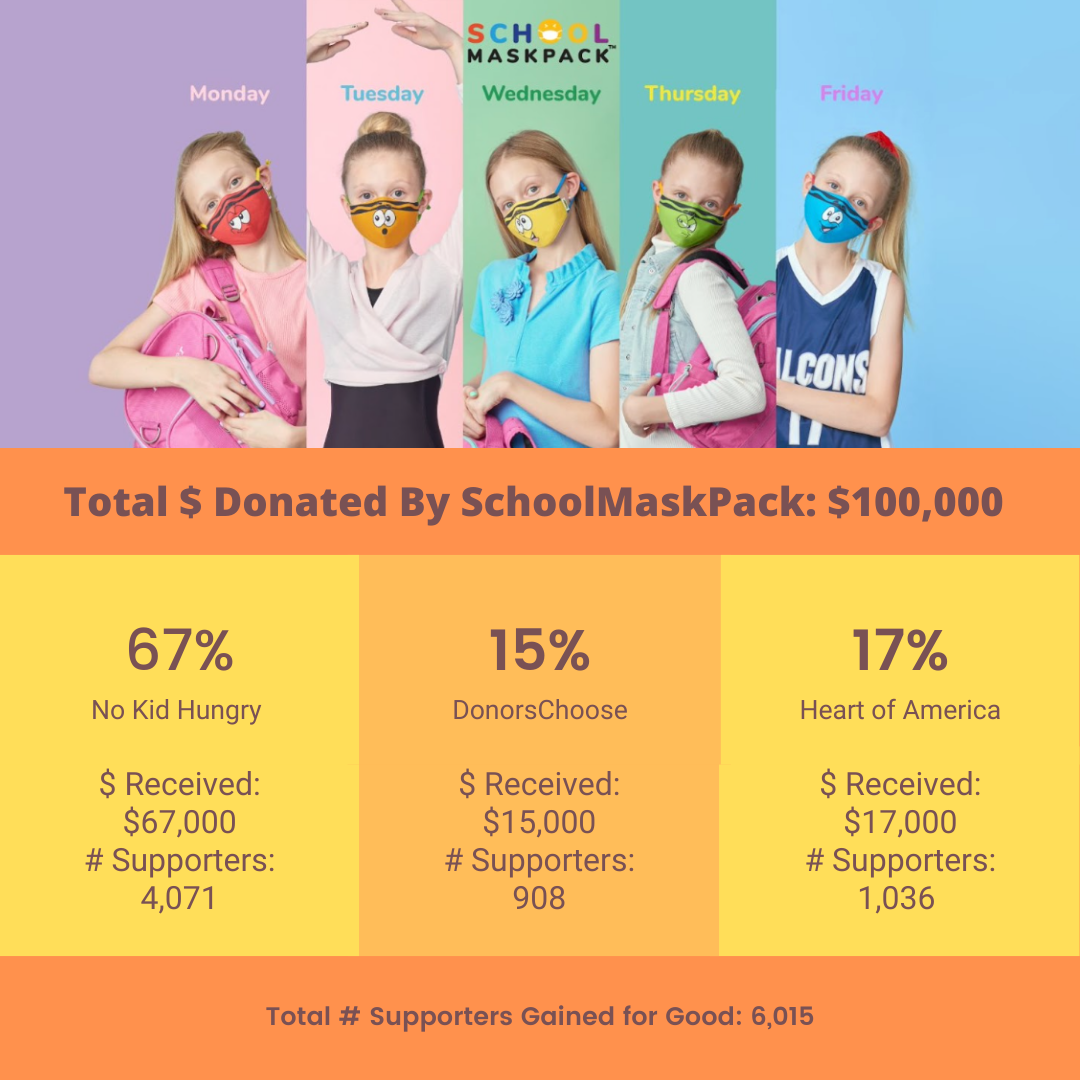 Testimonials:
"We were pleased to align with in/Pact and take part in Crayola's School Mask Pack promotion. The support and awareness generated through this unique promotion will help No Kid Hungry connect kids to the healthy meals they need to thrive." -Allison Shuffield, No Kid Hungry Managing Director, Corporate Partnerships
"The key for the SchoolMaskPack™ team at Supara Group is that the foundations for innovation were in place already before COVID, and the headwinds caused by the pandemic for many businesses only accelerated the growth potential of our new model. Thanks to in/PACT's interactive digital giving solutions, we were able to grow sales and product affinity through our commitment to supporting those affected most by the pandemic." - George Hartel, COO at Supara Group
"Teachers and students are embarking on a back-to-school season like none other, and how we tackle this year's education challenges will affect how a generation of students learn. When you buy a School Mask Pack, you're offering a helping hand to students who need support to get back to learning."- Risa Ward, VP Partnerships at Donors Choose
---
Comments
---