Designing the Future of Loyalty: A Harmonious Blend of Commerce and Compassion
By Ben Netter in
July 02, 2023 21:00
---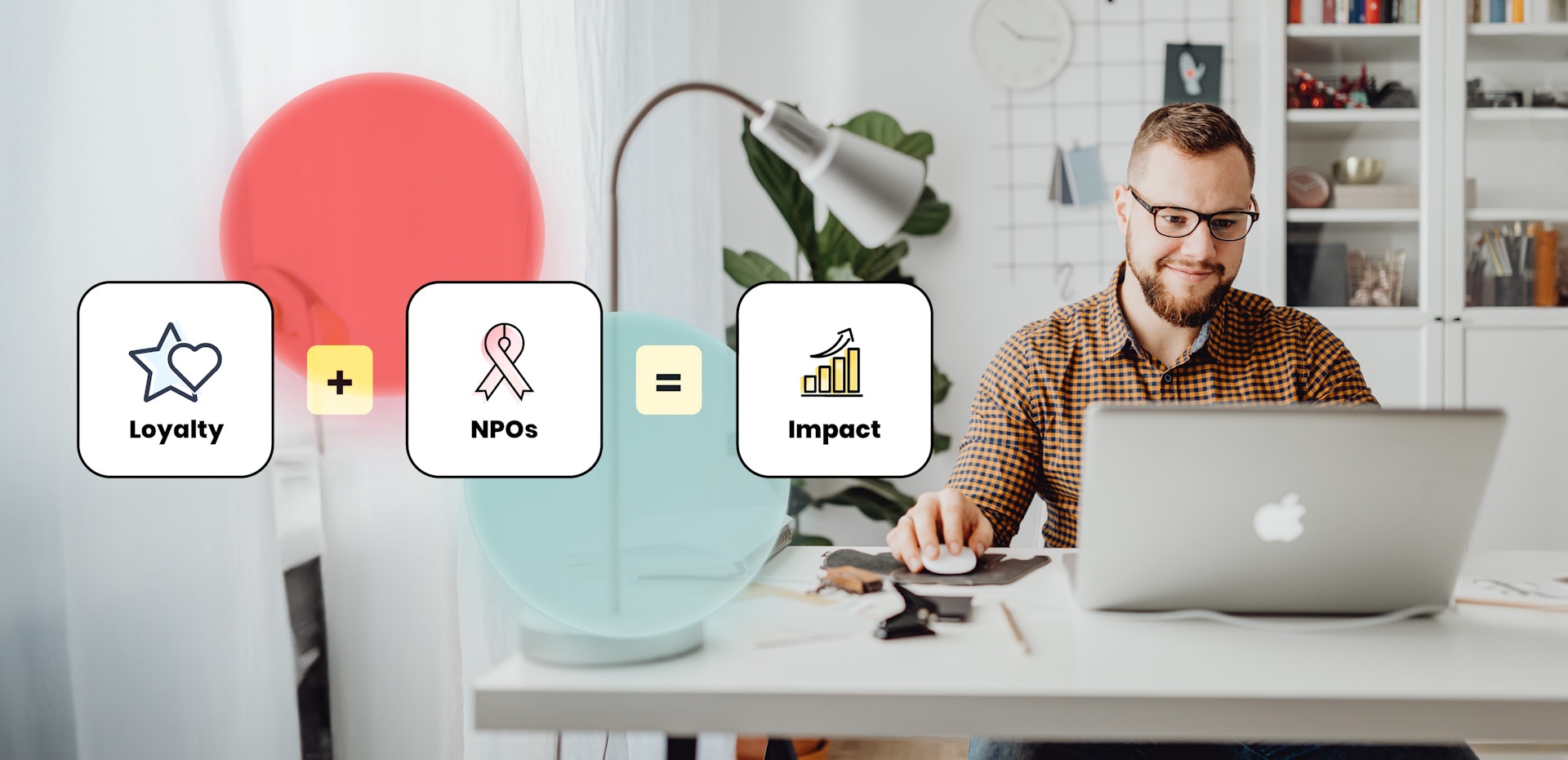 In an era where empathy and commerce merge, the "Future of Loyalty 2023" report uncovers a promising trend: the rise of socially conscious elements in loyalty programs. This transition aligns seamlessly with the preferences of today's consumers, especially those under 35, who seek not just personal rewards but also societal impact.
The report classifies loyalty programs into three distinct categories:
Product-Only Program: These programs allow consumers to redeem points for free products and services.
Social Good-Only Program: Here, consumers can redeem points as donations to social or environmental causes.
Mixed Program: This type of program offers consumers the flexibility to redeem points either for free products/services or as donations to causes.
The flexibility of a mixed program allows it to cater to a wide range of customer preferences, making it appealing to those who want tangible, personal benefits and those more interested in contributing to social good. This flexibility can enhance customer loyalty and satisfaction, as it empowers consumers to use their rewards in a way that aligns with their values and preferences.
Although all programs have a unique appeal, the report illustrates that the Mixed Program, which combines both Social Good Rewards and Loyalty Programs, garners the most favorable response among consumers.
Consumer Spending Increase: The Mixed programs led to a spending increase for 66% of consumers.
Consumer Retention: The Mixed Program outshone the other two, with a retention rate of 71%.
Positive Sentiment Towards the Brand: The mixed program has the strongest impact, with 74% of consumers saying such a program would make them feel more positive towards the company.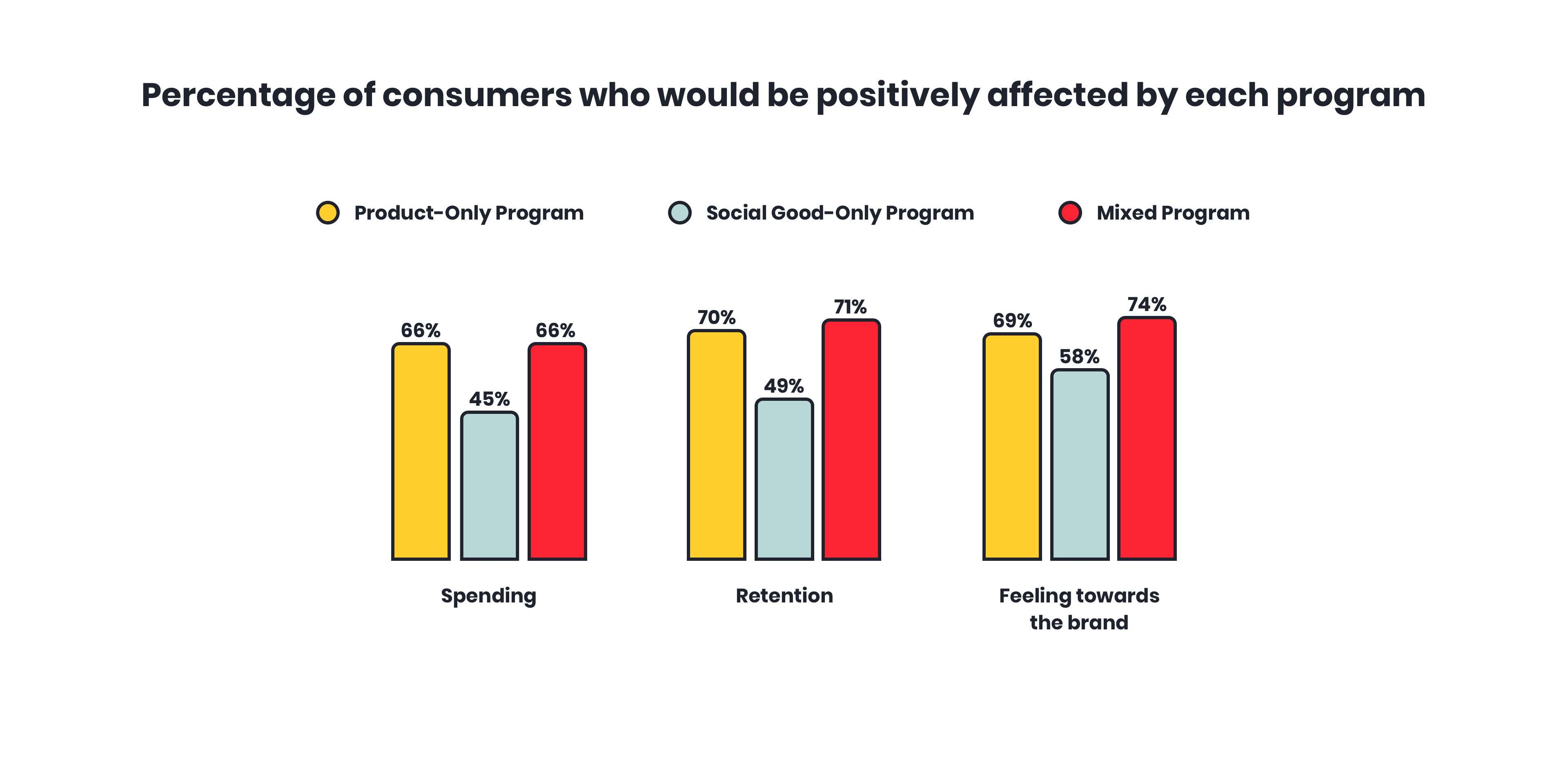 The report's findings point decisively to the advantages of Mixed Programs, which integrate Social Good Rewards into Loyalty Programs. This blended approach delivers the best of both worlds for consumers who enjoy personal benefits while also getting to support causes.
The upsides are plentiful: driving consumer spending, improving customer retention, and cultivating a positive brand image. Mixed Programs are far more than a passing trend. They constitute a sustainable, forward-looking loyalty solution, artfully combining commercial and social value.
The Road Ahead for Brands: To strengthen loyalty and brand image, brands should consider:
Expand Reward Options: Offer options to donate points to charitable organizations in addition to redeeming them for products or services.
Personalize Contributions: Allow consumers to choose the social or environmental causes they wish to support, making the contribution more meaningful.
Communicate Impact: Regularly share the positive impact generated through contributions, fostering a sense of connection and engagement.
Stay Authentic: Ensure social good reward programs genuinely reflect the brand's values and commitments, avoiding mere marketing ploys.
As in/PACT's Director of Account Management, these findings are crucial. Aligning consumer preference with social responsibility through loyalty programs is exciting. in/PACT has been connecting brands with causes and enabling customers to contribute, aiming to make "people-empowered giving" a reality. The report validates our beliefs that consumers increasingly align spending with values.
Key takeaways from the report that resonates with our experience at in/PACT are:
Emotional Connection: 58% of consumers feel more positive towards companies with social good-only programs. This emotional connection drives brand loyalty and engagement.
Mixed Programs: 74% of consumers feel more positive about mixed programs. Flexibility and choice to benefit personally and contribute to social causes are desired. Brands should embrace hybrid loyalty program models.
Personalization and Impact Communication: Consumers investing in causes they support and showcasing impact create a sense of accomplishment and belonging.
Authenticity: Consumers can discern authenticity. Brands must ensure their programs genuinely reflect values and commitments.
Best in Class Community Giving Programs:
In the era of purpose-driven consumerism, several major retail brands are revolutionizing their loyalty programs by integrating community giving activities. These programs empower customers to make a positive impact through their everyday purchases. Let's take a closer look at how Target Circle, Walgreens myWalgreens Cash, Kroger Community Rewards, PetSmart Treats, and Starbucks Rewards are engaging their members in community giving.

Target Circle

Target Circle is a prime example of a loyalty program that combines customer rewards with community giving. Members earn 1% on every purchase to redeem at Target and get personalized offers. In addition, Target Circle members receive votes that they can use to help direct Target's community giving efforts. Members can cast their votes for a range of non-profit organizations, and Target allocates funds to these organizations based on the percentage of votes they receive. This allows consumers to have a say in where Target's charitable donations are directed.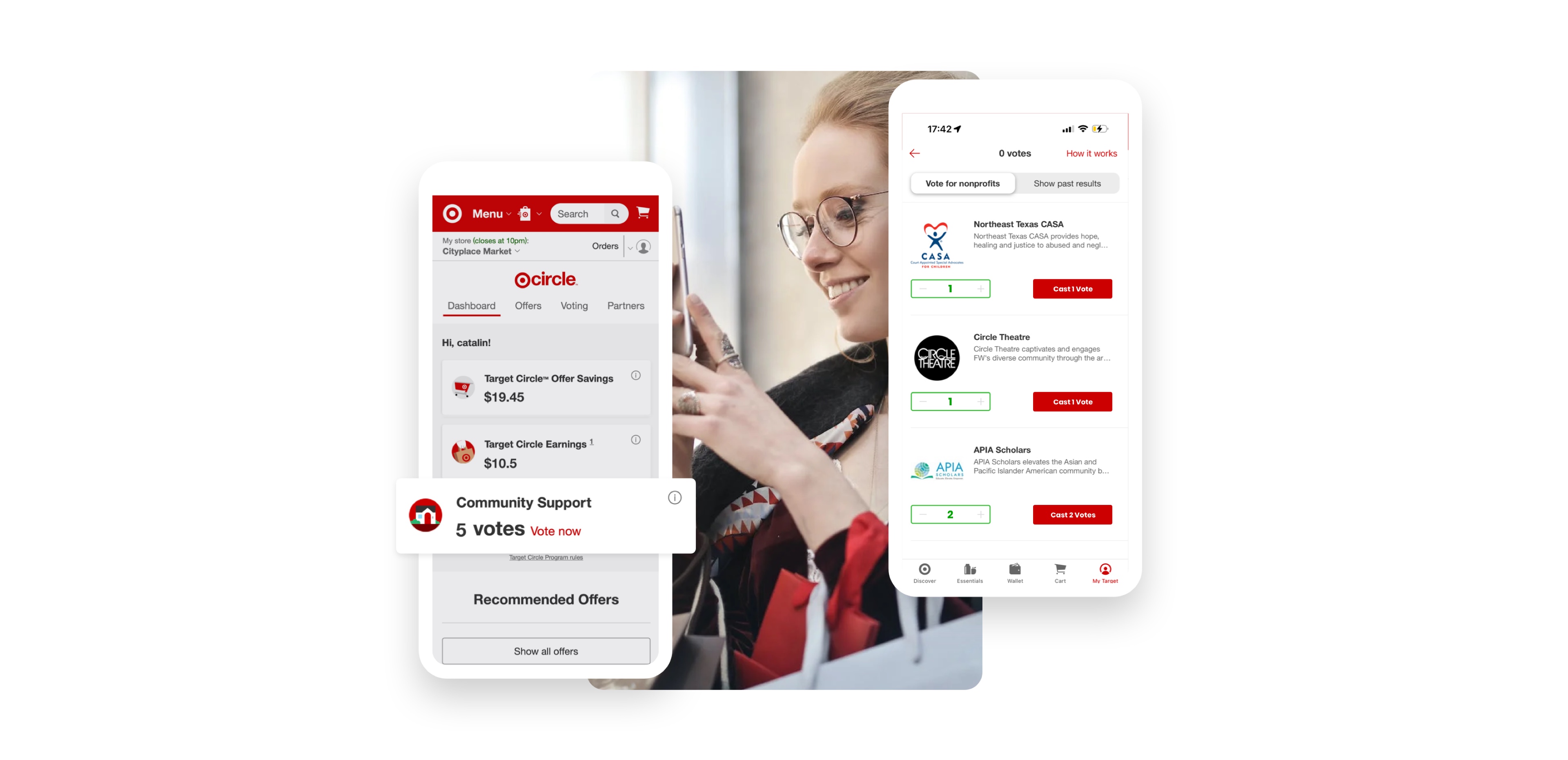 Walgreens myWalgreens Cash

Walgreens has stepped up its community giving through the myWalgreens Cash program. In addition to earning Walgreens Cash rewards on eligible purchases, members can also donate their Walgreens Cash to charity. The program offers members the flexibility to support various charitable organizations. By making it easy for customers to donate their rewards, Walgreens is encouraging community giving as a core component of its loyalty program.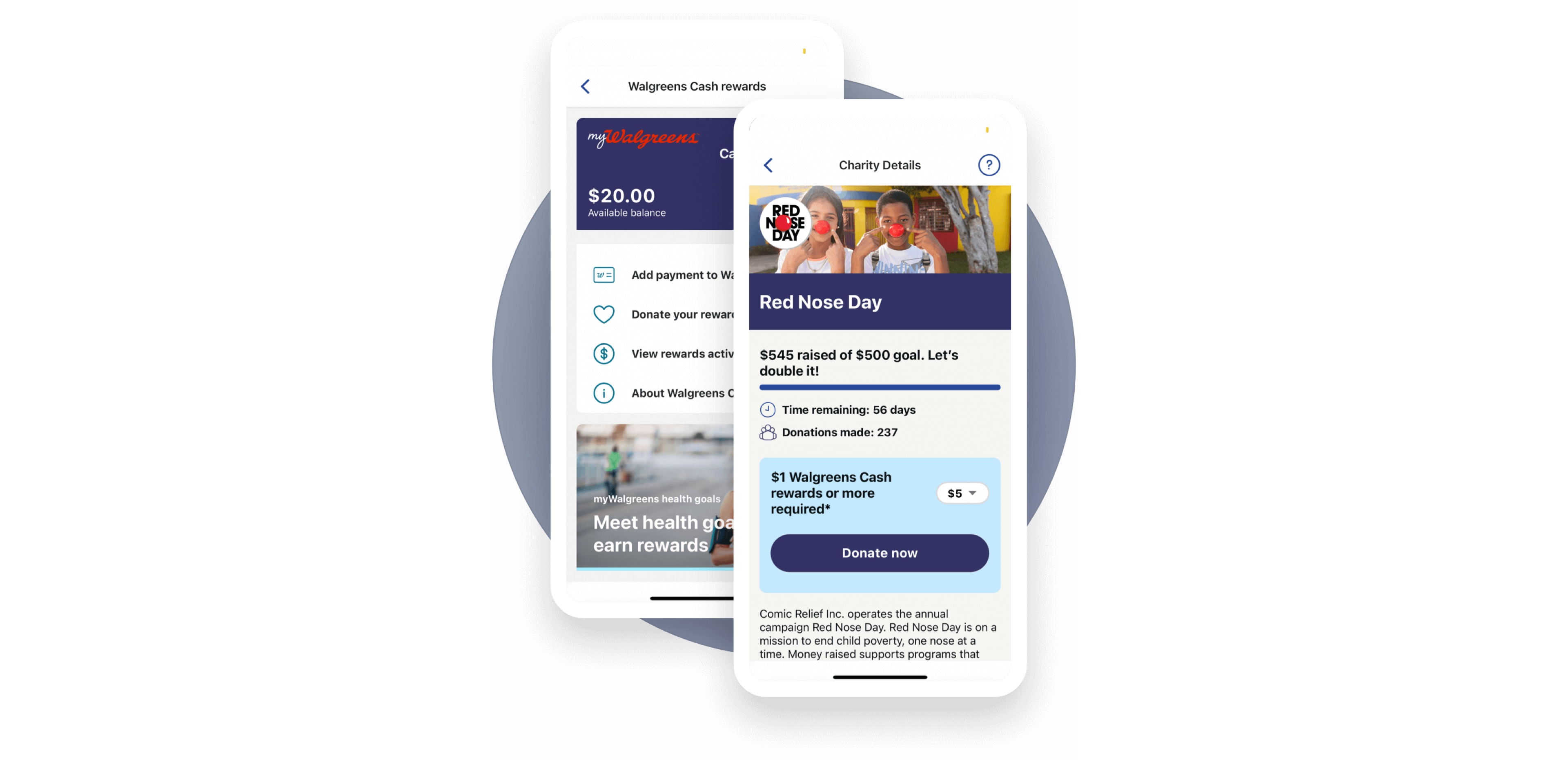 Kroger Community Rewards

Kroger's Community Rewards program is designed to give back to local communities. Members can link their shopper's card to a non-profit organization of their choice. For each purchase made with the shopper's card, Kroger donates a percentage of the total bill to the selected organization. This allows consumers to support local causes that they are passionate about, simply through their regular grocery shopping.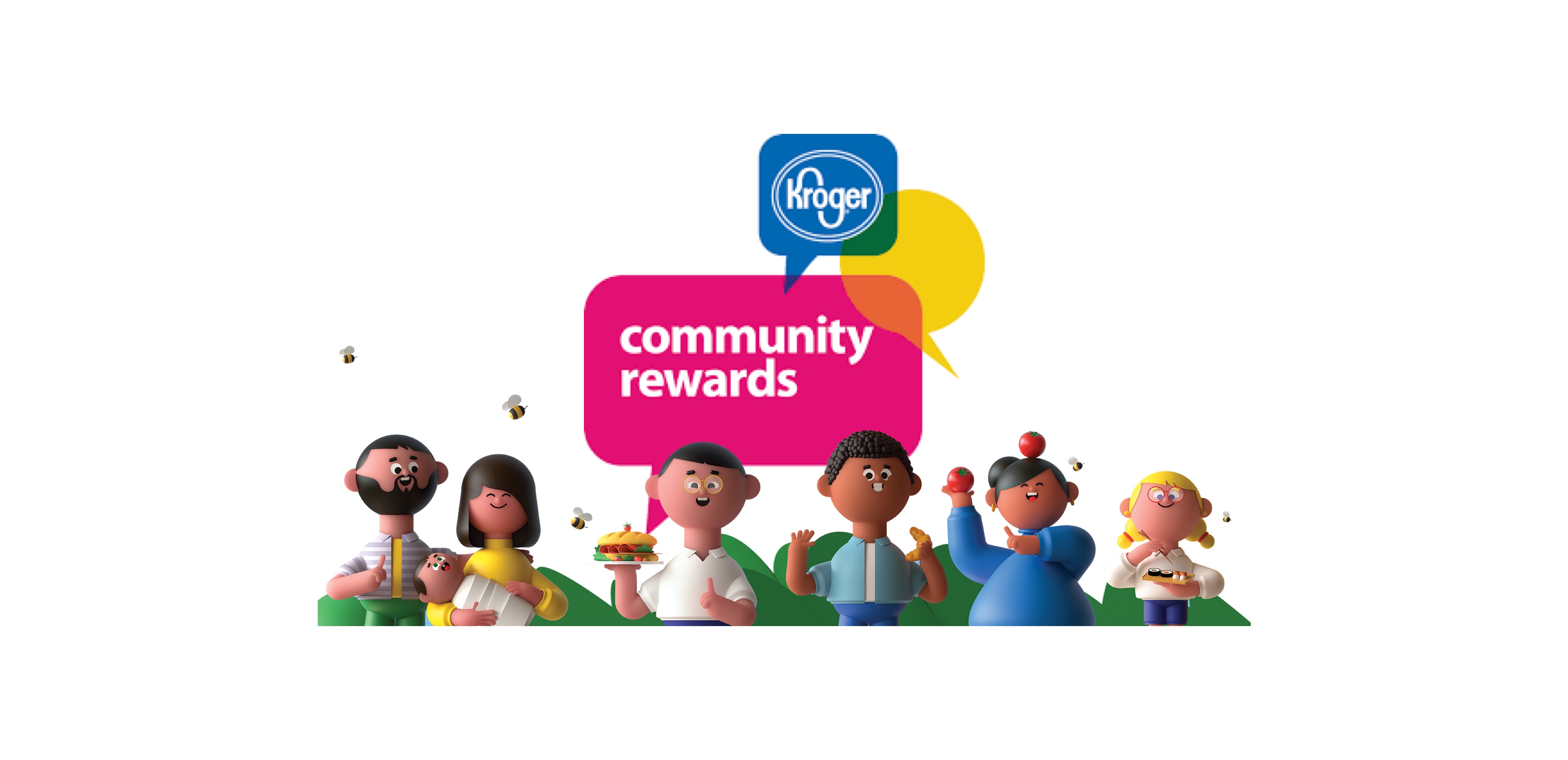 PetSmart Treats

PetSmart Treats loyalty program offers more than just rewards for pet owners. It has a strong focus on giving back to the community. Members can donate their points to PetSmart Charities, which helps find homes for shelter pets. This innovative approach connects the pet-loving customer base of PetSmart with a cause that resonates deeply with them, reinforcing a sense of purpose and community.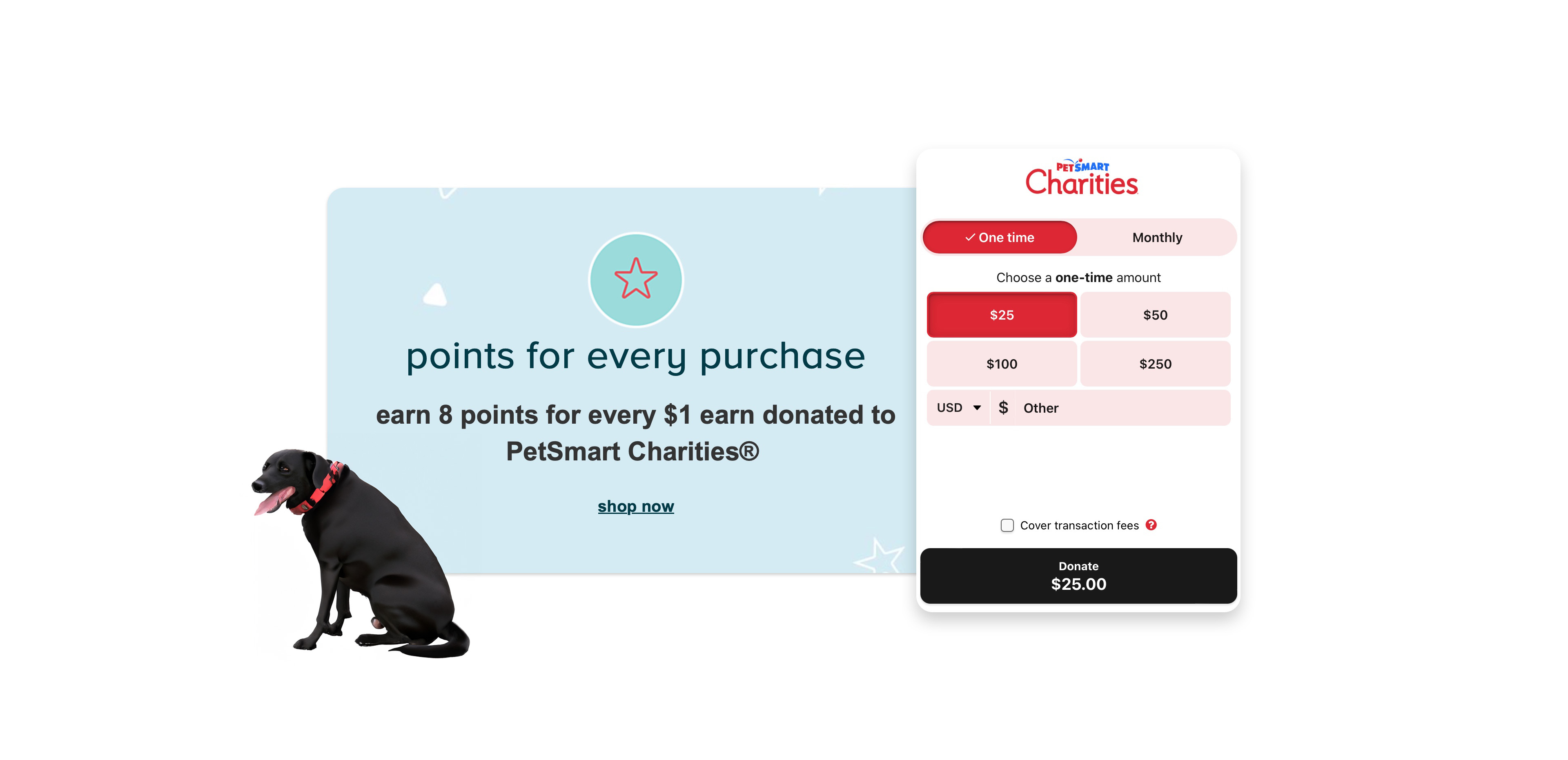 Starbucks Rewards

Starbucks Rewards program, known for its coffee rewards, has also embraced community giving. Starbucks occasionally holds special events where members can donate their Stars (reward points) to charitable causes. For instance, during the height of the COVID-19 pandemic, Starbucks Rewards members were given the option to donate their Stars to support frontline responders. This reflects Starbucks' commitment to social responsibility and community engagement.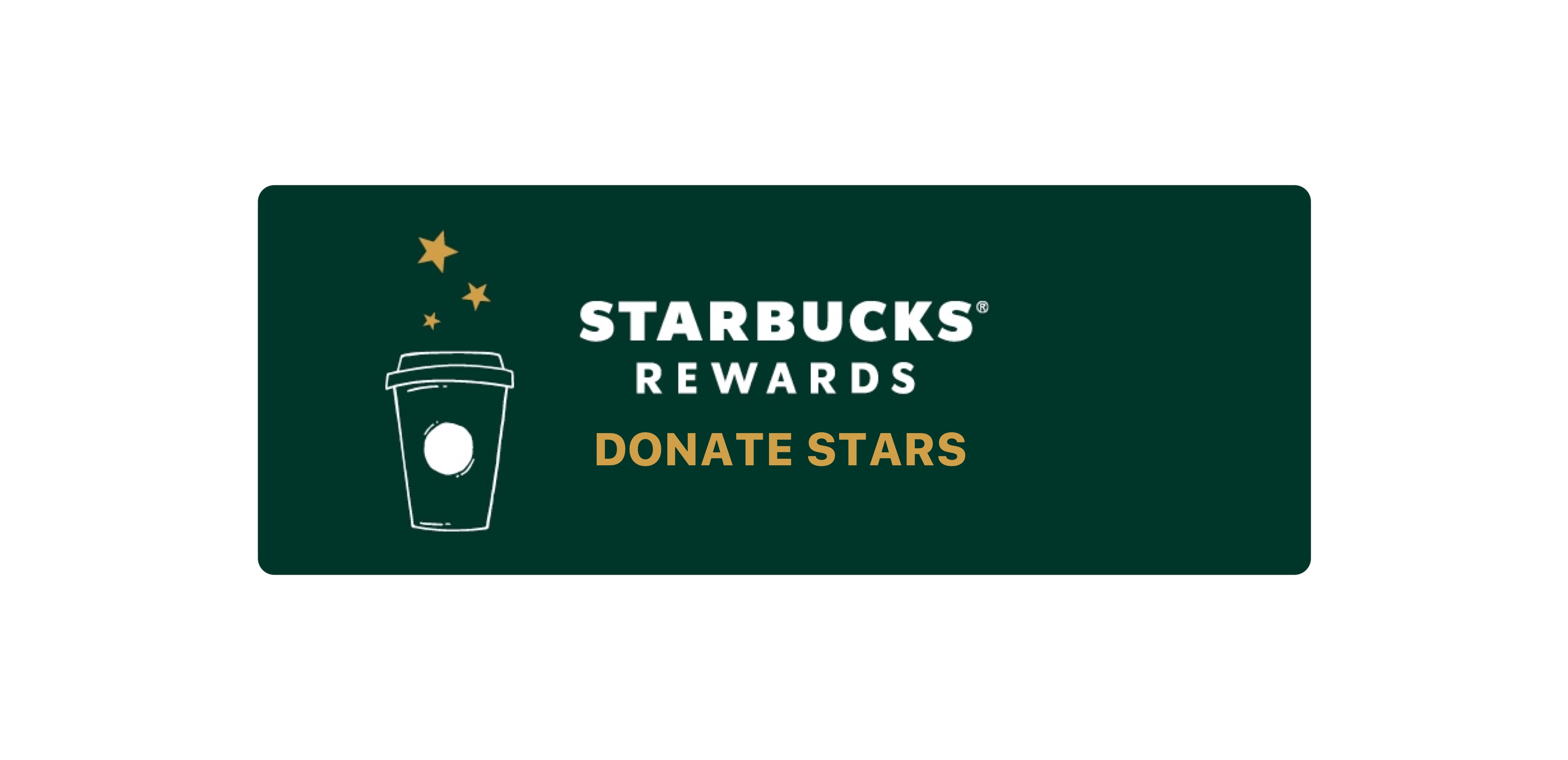 Concluding Thoughts

It's clear that the integration of social good into loyalty programs is no longer an exception but the emerging norm. Purpose-driven loyalty programs have a dual advantage - they not only positively influence the bottom line but also contribute to causes greater than ourselves, creating a deep sense of satisfaction and fulfillment.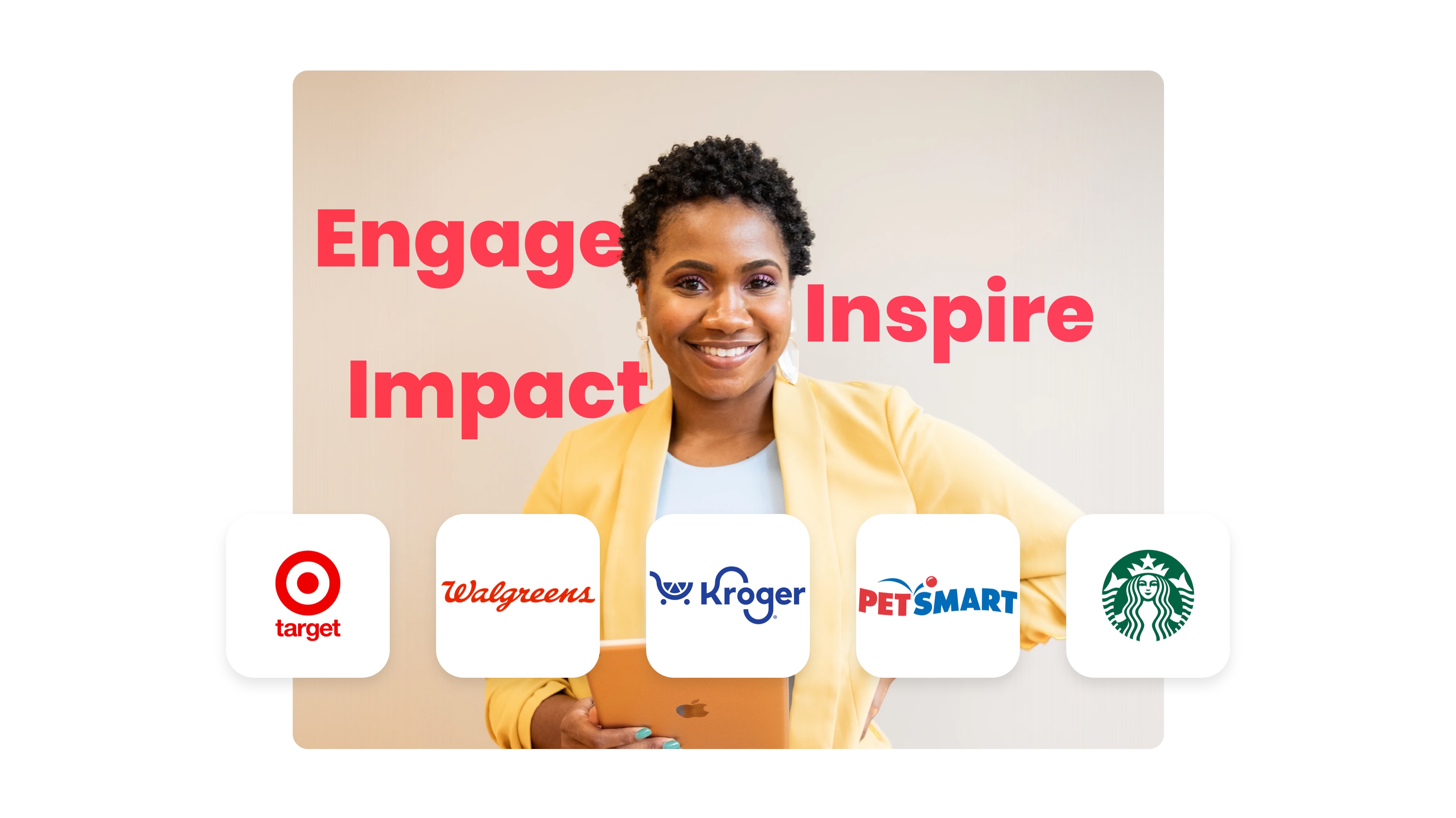 By integrating community giving into their loyalty programs, Target Circle, Walgreens myWalgreens Cash, Kroger Community Rewards, PetSmart Treats, and Starbucks Rewards are setting a new standard in consumer-brand relationships. Not only do these programs reward customers for their loyalty, but they also empower them to make a positive impact in their communities and the world at large. This alignment of values and actions is likely to be a defining trend in the future of loyalty programs.
---
Ben Netter is in/PACT's Director of Account Management and is known for his deep insights and dynamic leadership style. He brings to the table an exceptional blend of customer-focused approach, result-oriented mentality, and innovative problem-solving skills.
---
Comments
---