From A Charity And Sustainability Perspective, Super Bowl 50 Could Set The Precedent For Major Sports Events
By Stacy Verner in Interviews
February 02, 2016 05:00
---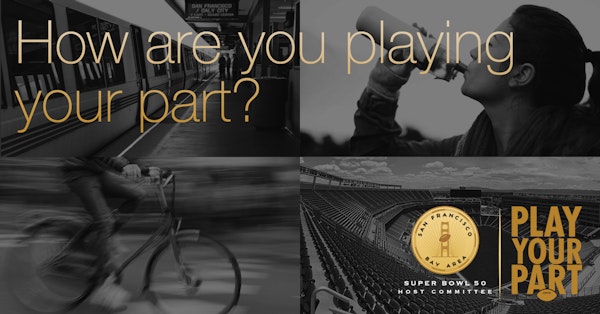 With Super Bowl 50 right around the corner, one thing that the Super Bowl 50 Host Committee is focusing on for this monumental event is sustainability. The host committee has partnered with in/PACT and Citizen Group to create the "Play Your Part" campaign to help maximize sustainability and make Super Bowl 50 a "Net Positive" event.
Thanks to help from in/PACT, a purpose driven agency that develops technologies that connect every act of buying with an act of giving, the Super Bowl 50 Host Committee is hoping they can not only make a difference for this event, but also for the future.
[embed]https://www.youtube.com/watch?v=ATYMyBRDdmM[/embed]
in/PACT bases their work on their four pillars. Purpose, action, communication, and transparency. Purpose states that customers often support companies that are committed for the long run to make a difference in their lives. Action refers to when customers are able to decide where corporations should direct giving a percent of their sales. Communication is based on real-time social media connectivity and engagement. Finally, transparency is based on the notion that a large majority of customers don't trust corporations or believe that they are making a difference in the ways that the corporation may claim.
The recently founded in/PACTx, the sports and entertainment branch of in/PACT, was tasked with the role of creating a sustainable event that will set the standard for the future. The campaign is focused on the idea that the people attending Super Bowl events and the people at home can make pledges and commit to living a more sustainable life. "We wanted to do Super Bowl 50 differently," said in/PACTx President Neill Duffy. "We wanted to look forward and set an example for how Super Bowls are held."
There are three phases for fans that want to be a part of the "Play Your Part" Campaign, take action, choose a cause, and win prizes.
To take action, fans are being asked to live more sustainably and make a "net positive" difference. Fans who want to take action can visit the "Play Your Part" website and commit to making lifestyle changes. In choosing the actions they are rewarded with 50 "GoodCoins", the virtual currency used for this campaign which is converted to cash, to donate to the cause of their choice. The GoodCoins allow fans to choose between different causes and donate the coins as their commitment to living a more sustainable lifestyle. The most exciting phase of this campaign is the chance that fans are given to win prizes, by donating your 50 GoodCoins you are automatically entered to win a multitude of prizes, with the grand prize being two tickets to Super Bowl 50. With the help from GoodCoin contributions and the Host Committee, 1 million dollars will be donated to four non-profit charities that the Host Committee has selected.
The campaign is also focusing on making Super Bowl 50 the most sustainable event by teaming up with multiple different companies to make the game itself and Super Bowl City the most sustainable major sporting event we've ever seen. "Given the millions of fans that the Big Game attracts, there's a huge opportunity for all of us to join together and play our part in shaping a better future," said in/PACT CEO John McNeel. This all begins with the fact that both of these events are being held at LEED gold-certified buildings. The Host Committee is hoping to maximize sustainability by asking fans to use public transportation, carpool, avoid using single-use water bottles, amongst other things.
Much like in/PACT, the Play Your Part campaign has its own four pillars. Reducing impact on climate change by delivering a low emissions event, responsibly using materials and resources, inspiring fans to embrace sustainability personally and leaving a lasting legacy.
With all that in/PACT and the Super Bowl 50 Host Committee are doing to make this event a "Net Positive", it will be exciting to see how it will turn out, not only for Super Bowl 50, but for all major sporting events to come.
This article was originally published on SportTechie.
---
Comments
---