in/PACT & FIS™ release new product: Round Up To Charity for Debit Transactions
By Amy Kubie in Blog, Press Release, Announcements
October 06, 2020 14:45
---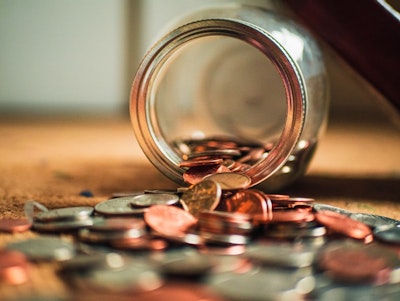 Round Up is a new, innovative solution that lets cardholders "round up" money from every transaction into their savings account or donate to a charity of their choice

Cardholders can control the amount of charitable contribution, with optional caps if desired

Round Up adds secure integration capabilities to banks and credit unions through APIs to bring a frictionless experience to consumers

Institutions utilizing Round Up stand to increase debit card usage, deliver new value to cardholders, and build a loyal customer base
CHARLESTON, SC. October 6, 2020 - in/PACT, in partnership with FIS™, announces the release of Round Up, a new way for consumers to creatively manage their money - by rounding up their debit transactions to a savings account or a charity of their choice.
With Round Up, debit cardholders gain the flexibility to make saving and donating their spare change easy and more accessible. Cardholders can choose to round up to the nearest dollar as well as setting optional budget caps that match their lifestyle. Once the cardholder enrolls and sets their individualized preferences, each debit card transaction made is rounded up, and the balance is transferred to the customer's savings account or charity of choice.
Half of Americans have less than a three-month cushion in their savings account and more than a quarter (37 percent) of Americans have no savings account whatsoever. Cardholders can choose the amount to round up that meets their financial needs, and these small amounts in turn have the potential to create long-lasting impacts, both personal and social.
Research shows that 90 percent of global consumers would switch brands to one that are associated with a good cause. Companies that offer their audiences the opportunity to give digitally are increasingly relevant at a time when trends in the giving space are already shifting to digital payments, compounded with recent events like the covid-19 pandemic which makes in-person fundraising difficult.
"Our clients are enthusiastic because rounding up transactions is a recent trend that are marketed to consumers that enables them to contribute to social impact through routine daily debit transactions," said Lisa Dill, VP, Credit and Debit Product of FIS. "With Round Up, financial institutions have the ability to help increase card usage and drive brand loyalty.
"Giving consumers access to safe and seamless digital charitable giving solutions is the way of the future," said John McNeel, Co-Founder, Chairman and CEO of in/PACT. "Round Up is an easy-to-use way to give to charity every day and with every transaction."
Round Up adds secure capabilities to the bank and credit union network through APIs, bringing a frictionless experience to cardholders without the complications of back-end integration. In conjunction with FIS's Charitable Giving Platform, financial institutions are poised to simplify consumer giving through a convenient, online solution that provides a centralized and secure giving experience.
Round Up launches at a time when financial institutions are searching for creative, new ways to support their communities during a global pandemic and as the younger, tech-savvy generations seek to support brands that are associated with a good cause. As trends in the marketplace already indicate, digital charitable giving is the fastest growing form of fundraising for nonprofits. Financial institutions utilizing Round Up stand to increase card usage, keep their debit card top of wallet, and deliver new value to cardholders, encouraging loyalty to their brand.
Read the full press release here:
https://www.prnewswire.com/news-releases/inpact--fis-release-new-product-round-up-to-charity-for-debit-transactions-301146657.html
---
Comments
---