in/PACT Teams With SchoolMaskPack to Launch New Giving Program 'Kids Helping Kids'
By Amy Kubie in Press Release, Announcements
June 15, 2020 17:30
---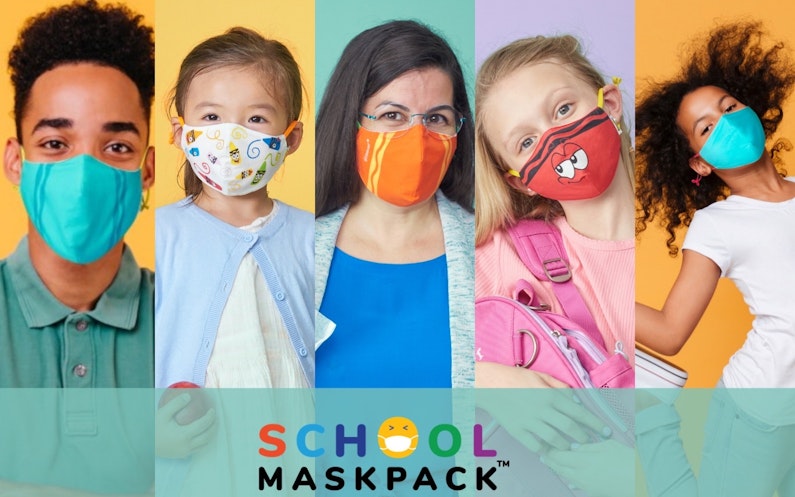 in/PACT and the GoodCoin Foundation are proud to announce our latest partnership and giving program with School Mask Pack, a new Crayola-licensed 5-day mask system. Crayola's heritage of supporting schools and communities is brought to the forefront as SchoolMaskPack commits to donate part of the proceeds to a new charitable fund that aids those most affected by the coronavirus. As efforts progress to reopen schools and moms and dads go back to work over the summer and the upcoming school year, SchoolMaskPack is positioned to help families adjust to the new "back to school" normal of social distancing.
Utilizing in/PACT's proprietary Purpose to Purchase solution and partnership with the GoodCoin Foundation, "Customers will have the opportunity to help direct where SchoolMaskPack gives back to the community by donating to one of three charities that support kids who are impacted by the Covid-19 pandemic - DonorsChoose, No Kid Hungry, and Heart of America," says George Hartel, Chief Commercial Officer of SchoolMaskPack.
"Crayola has always worked to support children in the home and in the classroom," said Warren Schorr, Vice President of Business Development and Global Licensing at Crayola. "We're glad to partner with SchoolMaskPack to bring options to their mask system and provide supportive solutions for school communities, parents, teachers, and children."
Customers can purchase Crayola licensed non-medical cloth mask systems at www.schoolmaskpack.com, and through other online retailers.
View the full press release on PR Newswire here.
---
Comments
---