Making it Matter: Social Good Effectiveness
By John McNeel in General
June 08, 2016 04:00
---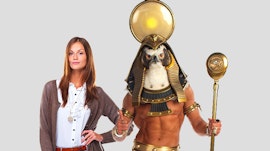 A Novel Concept: Positive Change + Effectiveness
Generally you'd expect them to go hand in hand, right? Any initiative, program, campaign, etc., offering positive change should be considered somewhat less than true to its promise if it gets the positive part right, but falls short on the change part. Positivity or promised change without effective change is like the form without the substance, the shiny wrapper with nothing inside.
And yet, sadly, too many so-called social good efforts -- extending from corporate philanthropy to CSR to cause marketing campaigns and even to high-minded NGO projects -- often over-deliver on the promise of a better world but fail to make any real, meaningful or lasting difference where it really counts, i.e. in the real world. It's as though there's an underlying belief that social good should be judged more on its positive intentions than on its actual results.
There's a term for that, though: it's called wishful thinking. (Or worse: greenwashing!)
Starting from the refreshing perspective that positive change initiatives should be held to the same standard of effectiveness, ROI and accountability as any other project an organization may undertake, the Effie Award -- which has established the gold standard for marketing effectiveness in the industry -- last year launched its Positive Change Effie. Explained Neal Davies, President & CEO of Effie Worldwide, "We run 47 national, regional and global programs around the world, but the Positive Change Effie is perhaps the one that makes us most proud. It is more than just an award, it is a challenge to our industry to step up and do the right thing."
The Positive Change Effie is in its second year of existence -- something we at in/PACT have in common. But more importantly, both are predicated on the belief that social good and positive change must be judged on how much is achieved, not how much is intended. That linking positive impact in the world to a positive business impact is a good thing. That cause marketing should have the same ROI expectation as any other form of marketing. And finally, that companies or organizations that set out to change the world -- or who say they are doing so -- should actually hold themselves to that standard.
But companies aren't the only ones guilty of not always putting their money where their mouth is when it comes to social good intentions. Research has shown as well a clear gap between the stated attitudes and actions of consumers when it comes to sustainable choices. For example, a recent study showed that around 72% of consumers surveyed around the world said they were willing to buy green products... but only 17% actually did so.
The Positive Change Effie, working in conjunction with the World Economic Forum's Engaging Tomorrow's Consumer project, is designed to reinforce best practices in linking consumer attitudes to consumer behavior, while simultaneously exploring how to encourage sustainable consumption and create business value.
This linking of attitudes and intentions to the ability to drive real change and value to the business is very much part of in/PACT's DNA. Through our own "people-empowered giving" solutions, in/PACT is also doing its part to help consumers join their purchase decisions to a higher purpose, while connecting that act of buying to a reciprocal act of giving: making a difference while making a purchase!
So in/PACT was honored this year to be able to partner with Effie Worldwide (itself, by the way, a nonprofit organization) to support the Positive Change Effie and to participate in its self-stated mission "to recognize and celebrate the most effective marketing programs that have measurably shifted consumer behavior toward more sustainable choices, and/or grown demand for more sustainable products and services by incorporating sustainability as a part of their marketing communications."
On Thursday evening in New York City, we were there to see this year's Positive Change Effie winner announced: a highly memorable, entertaining and — most importantly — effective campaign for the Solar City company. The challenge was to drive consideration and purchase intent among homeowners to install solar panels — certainly not the sexiest topic and one that often ends up marketed through a combination of lecturing and guilt. Instead this campaign created a character — a reincarnated Egyptian sun god with ripped abs — who becomes the homeowner's newest domestic slave in a series of entertaining commercials. Enjoy them here and here.
The campaign was entered into the Positive Change category by the talented agency that developed it, Arnold Worldwide, because it was for a worthy product offering a more sustainable choice for home energy needs. But it won the gold in that category because it recognized that you can use humor effectively to treat a serious subject — and ultimately because it moved the needle on purchase intent and sales. In other words, it worked.
Campaigns such as this -- along with others the jury deliberated over -- bode well for the future of how companies and consumers alike look at social good initiatives. That it's about actions, not just words.
"To help get consumers excited about sustainability, we must excite marketers because they are the ones who will promote sustainable products," said Bea Perez, Chief Sustainability Officer, The Coca-Cola Company, and Chair of the Positive Change Jury for North America. "It's great to see this become a reality as the Positive Change Effie Award will be a coveted award that companies will want to win."
The final word goes to Keith Weed, Chief Marketing and Communications Officer, Unilever — a company which is embedding Purpose at the heart of everything it does... but also holding its business units accountable for achieving positive business results while making purposeful choices. "Business has perhaps the biggest opportunity to encourage sustainable behaviors among consumers through developing brands with a social mission and communicating the benefits effectively.
"The Positive Change Effie award is ground-breaking in that it is the first time we are rewarding marketers for incorporating sustainable strategies in their brand messaging," he concluded. "This is another significant step in driving positive social and environmental change."
Change is most definitely in the air! But more importantly, and increasingly, we're seeing change grounded in reality, and in results.
---
Comments
---