People-Empowered Giving Program "Play Your Part" Sees 27K Pledges
By Stacy Verner in External Articles
March 08, 2016 05:00
---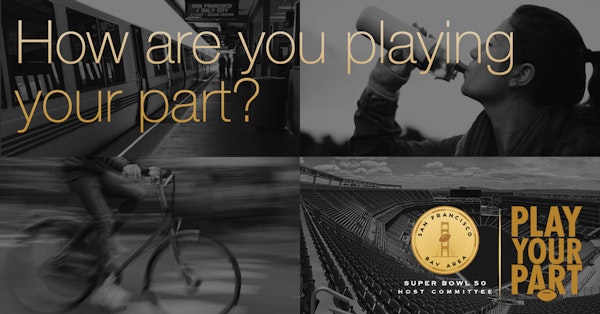 The San Francisco Bay Area Super Bowl 50 Host Committee has recently completed a program in partnership with interactive cause marketing company in/PACT and San Francisco-based pro-social ad agency Citizen Group that helped fans play their part in helping the Host Committee meet their goal of delivering Super Bowl 50 as a net positive event.
The program, titled "Play Your Part," recognized and rewarded fans for their net positive behavior by providing GoodCoins to support 50 Fund grant making. By personally performing or pledging to perform sustainable actions, fans could help decide how a portion of the 50 Fund's Sustainable Environments Game Changer Grants were allocated, as well as entered into a sweepstakes to win daily prizes, including two tickets to the big game.\
"The Play Your Part program not only helped support the Host Committee's objective to make this the most giving Super Bowl in history, but also made it one of the most participatory by engaging fans in the cause," said John McNeel, CEO of in/PACT. "We were thrilled to be invited to help bring this historic event to life through our purpose activation platform."
"By aligning with the Bay Area's leadership in technology, sustainability and philanthropy, I hope we had the opportunity to set a new standard," added Robin Raj, founder and executive director of Citizen Group. "We're proud to have worked with the Host Committee and in/PACT to create a model for how major sporting events can engage and support their communities in the future."
The Play Your Part program generated over 27,000 pledge actions, which directed 371,200 GoodCoins, or $200,000, to the four chosen Bay Area nonprofits: Education Outside, Children's Discovery Museum, Hunters Point Family and Environmental Volunteers. The most popular pledge actions included bringing your own water bottle, turning off the lights, recycling, using e-tickets and taking public transit, with those five pledge actions representing 46% of all pledges made.
"Play Your Part was the perfect alignment of the Host Committee's 'Net Positive' commitment with our goal to be the most giving Super Bowl ever," said Jason Trimiew, VP of Community Relations at San Francisco Bay Area Super Bowl 50 Host Committee. "By linking fans' environmentally sustainable behaviors with grant making to Bay Area charities, we were able to leave a legacy for our communities while ensuring that the Super Bowl was as 'green' as possible." Read more at http://www.sfbaysuperbowl.com/people-empowered-giving-program-play-your-part-sees-27k-pledges#we44578gLcBf6ZQG.99
---
Comments
---