Playing Our Part at Super Bowl 50
By John McNeel in Events
January 29, 2016 05:00
---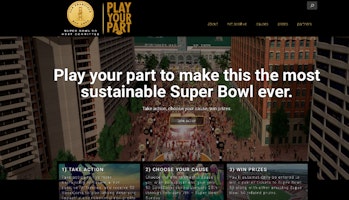 If you create, manage, place, buy or even just consume advertising, you're certainly aware that the Super Bowl has become one of the most lavish and spectacular "ad-fests" that exists in any medium, on any screen, anywhere. Every year brands invest millions to compete to win hearts and minds, or simply to entertain, at the world's premier advertising showcase.
This year will be no different -- but unlike any year before, there will be something else happening to engage fans at the Super Bowl next week as it celebrates its fiftieth birthday.
Under the aegis of the 50 Fund, a not for profit set up to help meet Super Bowl 50 Host Committee's stated goal to make this the most sustainable Super Bowl in history, a unique program called Play Your Part will invite fans to -- very specifically -- play their part to reach that goal.
Developed in partnership with in/PACT and the Citizen Group, the initiative kicked off (ok, last football pun, I promise) two weeks ago with a microsite that invites fans and supporters to make pledges to adopt certain behaviors, such as riding a bike to the game or carrying reusable drinking containers.
In return, the fans are rewarded 50 GoodCoins -- a virtual currency on the in/PACT platform -- which they can direct to one of four worthy environmental associations or nonprofits in the Bay Area. The kicker (there I go again) is that participants in this memorable give-back program can also win great prizes such as tickets to the Super Bowl or other memorabilia.
As a guy who spent the better part of my adult life either admiring, working for or competing with major brands that wanted to make their mark with iconic Super Bowl ads, I'm very proud to have the opportunity to be a part of this very different and very meaningful program.
The in/PACT technology platform -- which we are privileged to place at the heart of the Play Your Part program -- was designed to do precisely what the Super Bowl 50 Host Committee and the 50 Fund set out to do: engage with stakeholders in a way that allows them to make a real difference by directing contributions from a donation pool to worthy causes.
Of course, there's no big game without a lot of teamwork, and the same applies to the Play Your Part program. It never would have happened without the awesome work of the in/PACT team, led by Neill Duffy, working hand in hand with our partner Robin Raj and his talented team at Citizen Group. Their vision and collaboration -- in conjunction with the enlightened leadership at the 50 Fund and the Host Committee -- made it all possible.
You too can play your part. Visit the website here and make a pledge to embrace sustainable behaviors. You'll be helping make the world a better place.
Oh, and of course, enjoy the game... and the ads!
---
Comments
---