Super Bowl 50: An Event With A Purpose
By Stacy Verner in Guest Blogger
January 25, 2016 05:00
---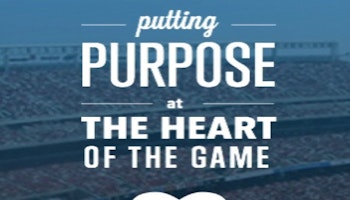 What I love about this Super Bowl is that it's about so much more than just football. Yes, the big game on Super Bowl Sunday matters and will be the centre of the nations attention for those magical four hours. But what matters more is the way the event has been transformed into a platform for good, an event with a purpose, an event that will deliver benefits to the local Bay Area community and environment for years to come.
Much of the credit for this goes to The San Francisco Super Bowl 50 Host Committee who made a commitment, right from the outset, to deliver Super Bowl 50 as the "most shared, most participatory and most giving"  Super Bowl ever and to do so in a "Net Positive" way - socially, environmentally and economically - for the benefit of the entire Bay Area.
This bold strategy leverages the immense engagement power of the world's single largest one-day sports event to benefit local communities and the environment by pursuing an ambitious business, social and environmental agenda that sets a new standard for Super Bowls and other major events to come. Its about doing good and doing well....not choosing one direction over the other.
Being sustainable operationally has been a focus for the Host Committee from day one and supplements the sustainable approach that the NFL has increasingly taken for the last 20 years under the leadership of NFL Environment Director Jack Groh. The Host Committee is on track to deliver its events in a low emissions manner and in a way that responsibly uses materials and resources, particularly food, water and waste.
But this is not enough for a team driven by the Bay Area's insatiable desire to disrupt and innovate.  As important is the teams focus on ensuring that the event is used as a catalyst to drive lasting social, environmental and economic impact for the region and to inspire the fans to personally embrace sustainability in their own lives and play their part in helping to achieve the Host Committee's ambitious goals.
The 50 Fund, the philanthropic arm of the Host Committee, is on track to achieve Host Committee's goal of being the "most giving" Super Bowl ever. The Fund has already made a meaningful impact through its Gamechanger, Play Maker, Re(a)d Zone and Play 60 Play On initiatives with grants of over $5million having already been made to high performing non profit organisations working to close the opportunity gap for young people in the Bay Area.
And efforts to engage Super Bowl fans in this "net positive" journey will step into top gear during the 9 days leading up to Super Bowl 50 with their Play Your Part campaign. Through Play Your Part, fans are being asked to take action in support of the Host Committee's "net positive" goals and in return be rewarded with the opportunity to (1) direct $200,000 towards Bay Area environmental non profits and (2) win prizes for themselves including tickets to Super Bowl 50.... in short, to do good and do well. Its another first for the Host Committee that makes it possible for the fans to personally contribute towards the success of the event rather just be passive observers.
None of this would be possible without three things. Firstly, the vision and leadership of the Host Committee's Chairman Daniel Lurie, CEO Keith Bruce and EVP Pat Gallagher who set the stage and provided the Host Committee team with the necessary permission required to push boundaries and disrupt the status quo. Secondly, the commitment of the amazing team of professionals at the Host Committee who have lived this vision and executed upon it with determination and purpose. And thirdly, the support of the Host Committee's Sustainability Partners - BAAQMD, Citizen Group, in/PACT, Klean Kanteen, Neste and TerraPass - who have embraced the opportunity to support and enable the Host Committee to deliver on its promise.
It's been a highlight of my career to date to have been able to Co-Chair the Sustainbility Sub Committee at the Host Committee, to advise this amazing team and to be able to contribute towards this incredible legacy. When all is said and done, my wish is that Super Bowl 50 will set a new benchmark for how Super Bowls and other major sports and entertainment events are delivered and recognised for the HUGE potential they have to drive meaningful and significant social, environmental and economic impacts.
Now its your turn to Play Your Part and help make Super Bowl 50 the most sustainable and giving Super Bowl ever. So please Take Action. Choose Your Cause, Win Prizes and share this story with everyone you know that you think will dare to care.
_______________________________________________________
This article was written by Neill Duffy, Co-Chair of the San Francisco Bay Area Super Bowl 50 Host Committee Sustainability Sub Committee and Sustainability Advisor to the Host Committee. Neill is also President at in/PACT X and Chief Catalyst at One World Play Project. 
The San Francisco Bay Area Super Bowl 50 Host Committee's Play Your Partcampaign was created and is being delivered by in/PACT and Citizen Group.
---
Comments
---