The Power of Love in the Time of COVID-19: Five Ways to Make a Difference
By Amy Kubie in Blog
March 18, 2020 18:00
---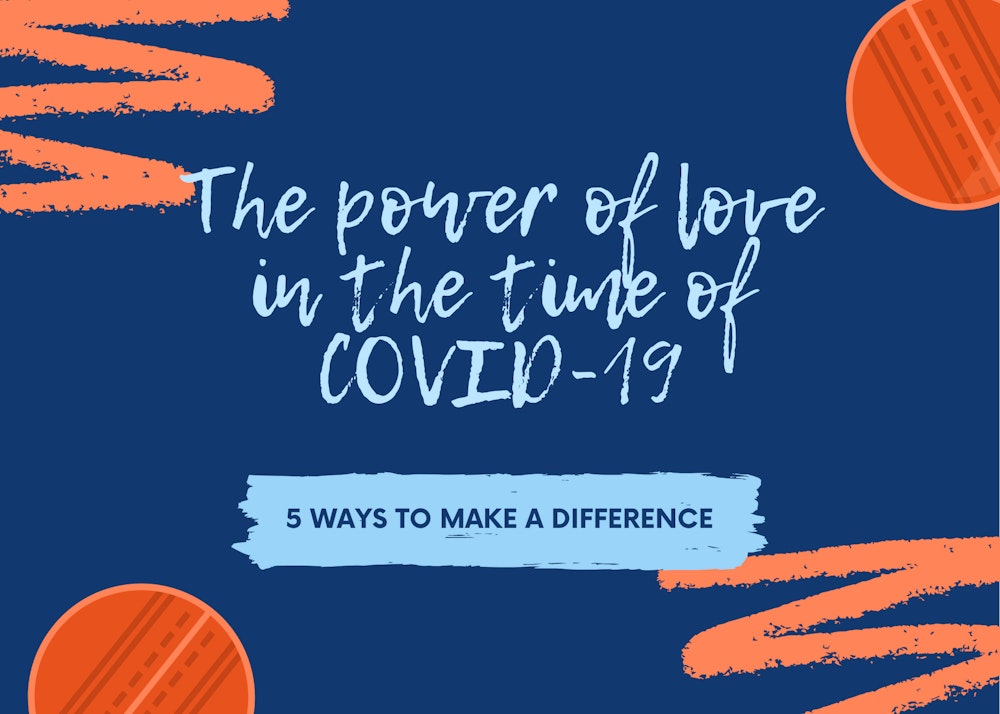 The outbreak of the coronavirus is causing major disruptions across the U.S. and around the world, with the resulting uncertainty and aftereffects expected to ripple through society and the economy for months to come.
While the full impact of COVID-19 is still unknown, many businesses and nonprofit organizations are already shutting their doors in an effort to slow down the spread of the virus. Fundraising events that charities depend upon, as well as the programs they fund, are being temporarily postponed or cancelled at an increasing rate. As a result, those most in need have become even more vulnerable.
In this age of international scientific cooperation, we have never been better equipped to fight a pandemic, according to the World Health Organization. But the other measure of our resiliency and strength as a society will be how we help our neighbors and our communities confront the impact of this global health crisis. How will our collective generosity and goodwill contribute towards a more optimistic outcome for the future?
As with any crisis management approach, it's all in the HOW. How you give back is almost as important as how much, to whom and where you give back.
So to begin with, we recommend making a plan around how you want to give in response to COVID-19. As much as dire headlines can generate panic, a haphazard response to a genuine desire to help generates what we call "panic giving." Instead, take the time to research the facts and understand which organizations are responding, in which ways, in which communities. The WHO and CDC Covid-19 websites are both recommended sources for reliable updates.
There will be multiple phases of response as with any public health crisis. Medical response, support for research, and assisting the most vulnerable are a few. Consider directing your giving through these channels or prepare to adjust as critical needs fluctuate.
Immediate Needs During the Outbreak:

In addition to the World Health Organization's COVID-19 Response Fund, there are many large international relief funds as well as countless community foundations across the country responding on a more local basis to immediate needs.

Supporting Local Nonprofits:

Think about all the local organizations you already support in the areas of housing/homelessness, healthcare, nutrition/food, mental health, domestic violence, senior care, etc. There will be increasing need for their services during and after this outbreak.

Reach out to your current nonprofit partner(s) to see how the crisis is affecting them. Consider issuing some additional funds to help them meet the new needs of their clients.

Support Emerging Response Leaders:

Many countries do not have the same level of resources as U.S.-based organizations. Direct support to emerging response leaders such as:

Support Medical Needs:

During a public health crisis, the most urgent needs are for protective equipment and medical supplies. Smaller health clinics may not have these resources and risk an outbreak.

Invest in your local community hospital by connecting with your health care system or through a medical services nonprofit.
Support the research searching for vaccines and effective treatments.

Support At-Risk Populations:

Look to your local Council on Aging or seniors' centers to see what is needed. People with pre-existing and mental health conditions are also at high risk. After the outbreak subsides, find ways to support those affected by the quarantine or business reduction, especially low-income individuals and families who may have gone without pay for an extended period of time.

Organizations such as Meals On Wheels are already supporting home-bound populations.
In addition to responding to your charitable instincts, are you ready to mobilize your available resources and activate your own COVID-19 community support program? How you and others answer this question will help shape the ultimate impact this crisis will have on all of our lives.
At in/PACT, we are dedicated to harnessing the power of technology to help companies, brands and people support the nonprofit organizations that are doing meaningful work in the world. When we talk about the power of love, and growing the world's heart, we mean finding ways to ensure that more people can give more, more often, to more charities (and not just the usual suspects).
Thinking LOCAL is a big part of that. Mobilizing the right means of support in each individual community to ensure it gets to deserving organizations is imperative in times of crisis or disaster relief.
Do you have questions on how you can work with in/PACT or how your company or brand can leverage our GoodCoin platform for rapid and effective response to COVID-19?
And in the meantime, here's some other helpful resources to inform you about how to best respond to moments of critical societal need:
---
Comments
---