Vouch Connects Charleston Businesses, Residents & Causes in Giving Tuesday Initiative
By Stacy Verner in Announcements
November 25, 2015 05:00
---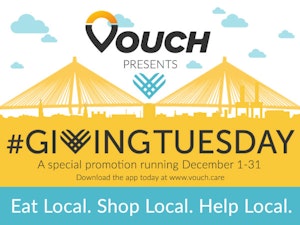 Vouch – a mobile application that connects local businesses, residents and causes – is having its national launch in the Charleston area and has announced a massive giving initiative  to celebrate International Giving Day on Tuesday, Dec. 1.
Vouch is the new way for causes to raise money and support, local businesses to show they care and people to help their favorite cause while they shop. By downloading the Vouch app from iTunes or Google Play, local residents can direct a small contribution to their favorite cause every time they check in at a participating business. By creating an account on Vouch, businesses receive exposure, customer engagement and interactive advertising capabilities on a hyperlocal level.
Vouch works directly with Enactus, an international nonprofit organization facilitated through the College of Charleston that brings together student, academic and business leaders who are committed to using the power of entrepreneurial action to transform lives and shape a better, more sustainable world.
Here's how the Giving Tuesday initiative works:
On December 1st, Vouch will preload $100 to 100 different downtown business accounts, generating a total of $10,000 to be claimed by local residents and directed to the causes of their choice. Vouch will be featuring a total of 40 local nonprofits in the Charleston area on the app, supporting the brand's promise: "Eat local. Help local. Shop local." As an added incentive to participate, Vouch will contribute a special prize of $1,000 to the cause that generates the most support, as well as an additional $1,000 contribution for the individual who checks in at the most places to direct to the cause of their choice.
"The Vouch app has great potential to revolutionize the way businesses and residents of the city of Charleston support local causes," said George Stevens, former President of the Coastal Community Foundation. "The Giving Tuesday initiative, with the generous support of the Vouch team, is a simple and easy way for people to give back to their favorite charity, while simultaneously supporting our local businesses."
In order to participate, Charleston residents simply need to download the Vouch app, link their profile to their favorite nonprofit and visit the 100 participating businesses on Tuesday, Dec. 1 throughout the entire month of December. The initiative will end on Thursday, Dec. 31.
"We are honored and excited to roll something like this out to the Charleston community," said John McNeel, CEO of in/PACT, Vouch's parent company. "Technology today offers new ways for businesses to connect with their customers and for people to connect with the causes they care about most. Vouch brings both of these trends together in an easy-to-use mobile application, and we truly believe in the power of Vouch as both a people-empowered giving platform and an ROI driver for the businesses who participate."

Rob Bouton, owner of Queen Street Grocery and early adopter of the Vouch app, says, "Queen Street Grocery has been on Vouch for about seven months now, and we love it. It's a great way to give back to the community, engage with our customers and drive traffic to local businesses."
This article originally appeared in Silicon Harbor Magazine, the premier online magazine focused on the growing tech scene in Charleston, South Carolina.
---
Comments
---