Vouch's #GivingTuesday Campaign Keeps Momentum
By Stacy Verner in Announcements
December 17, 2015 05:00
---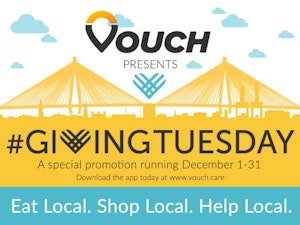 On the cusp of International Giving Day on Tuesday, December 1st, all of us here at Vouch had the same thought: why limit the giving to just one day?
And just like that, the seed was planted: we would do something bigger - better - to connect the people of Charleston with the causes they care about most by simply doing what this city does best: supporting our local businesses.
Through the Vouch #GivingTuesday campaign, we preloaded $10,000 to the Vouch platform, which was distributed evenly across 100 local businesses. For the entire month of December, shoppers, eaters and drinkers in the city of Charleston were invited to vouch at each of these 100 businesses to direct $1 per vouch to the cause they cared about the most. Businesses promoted the effort, local nonprofits mobilized their networks and the people of Charleston hopped on board to take part in a massive people-empowered giving movement.
The results are still rolling in, but we're happy with the progress. Local nonprofits like GreenHeart Project, Windwood Farm Home for Children and Charleston Waterkeeper have received hundreds of vouches — and dollars — in support, and the ticker is still growing. Businesses like King Street Public House, HoM, Fish and O-Ku Sushi had dozens of people ushered through their doors to support the cause they cared about. To keep the momentum going through the end of the year, participating businesses are now offering coupons for each vouch, allowing shoppers to actually save money for giving back. And most importantly, the people of Charleston are realizing that giving back doesn't have to be limited to just one day — it can be done every day, multiple times a day, through small, simple acts of giving that add up over time.
To play your part in the Vouch movement, download the Vouch app today and visit our list of 100 features businesses to help your cause — and your city.
Eat Local. Shop Local. Help Local.
---
Comments
---