We have the balls to give… do you?
By Stacy Verner in Announcements
January 13, 2016 05:00
---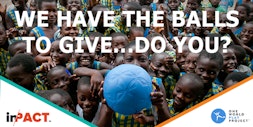 It all started with a simple concept: a ball, and that ball's ability to change the lives of millions.
The One World Play Project believes that play is in our DNA — it's a need as important as shelter, medicine and even food. By promoting the power of play across the world, they're on a mission to impact the lives of millions of people, regardless of their culture, geography, age or economic status.
From promoting bodily wellness to a crafting lively minds; from creating emotional well-being to helping us forge social connections and fuel creativity, the power of play cannot be understated. That's why our strategic partner, Innate Motion, has teamed up with the One World Play Project to promote the power of play across refugee camps, war zones and disaster areas using in/PACT's people-empowered giving platform.
By purchasing 500 of One World Play Project's ultra-durable soccer balls, Innate Motion is putting the power of play into the hands of their clients, allowing THEM to decide where the balls will go. Whether they choose to support Slum Soccer in India or Street Soccer in Mexico; the International Medical Corps in Turkey or All Girls Can Play in Africa or Asia, Innate Motion and One World Play Project's engagement campaign allows their clients and customers to feel personally invested in the giving initiative, giving them the power to make the difference of a lifetime to a person in need.
The ball's in your court, now. To help make the world a little more playful, check out One World Play Project's inspiring mission to bring positivity and play to the areas that need it most.
---
Comments
---